Professional construction services in NJ
WELCOME TO ULRICH BUILDERS
New Construction & Remodeling
Drywall & Metal Framing
Roofing & Siding
Custom Millwork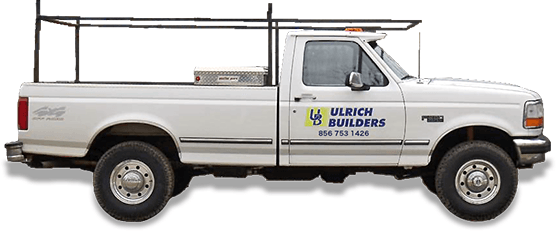 Serving South Jersey Residential & Commercial Customers for Over 25 Years.
Our experienced team of professionals are ready to update your kitchen, bathroom, add an addition, build you a new home, and build your company. We have faithfully satisfied customers for the past 25 years from homeowners to commercial & corporate endeavors.
New construction for new homeowners. Commercial construction for business corporations. Whether it's for residential or commercial building projects, Ulrich Builders undertakes everything from new large-scale building construction, home additions, to commercial construction.
Remodeling projects are painless when working with professionals. Whether you're looking to remodel your kitchen, bathroom, office, an exterior deck, patio, or pavilion, Ulrich Builders have the expertise and trusted name that delivers professionally finished results.
Roofing services for commercial and residential construction. Whether it's a roof repair or a complete roof replacement, Ulrich Roofing, a subsidiary of Ulrich Builders, has been providing homeowners and businesses for the past 25 years with professional quality roofing solutions.  Kevin Ulrich and his team will meet with you and set a plan on how to get your next roofing project started and complete with satisfaction.
Siding for homes and commercial businesses in New Jersey. The Ulrich Roofing team, a subsidiary of Ulrich Builders, in addition to providing roofing services also preforms siding replacement and repair solutions. Not only is new siding esthetically pleasing for your home or business, but installing new siding helps protect the outer structure from weathering wear and deterioration.  Feel confidant in knowing you have a dedicated team of professional installers when deciding to replace your home or business siding.
Metal framing assembly and drywall installation for home additions and remodels. Ulrich Drywall, a subsidiary of  Ulrich Builders, provides professionally skilled framing & drywall construction solutions that fit any project. Our professional and hassle free assembled framing and drywall team members are ready to work with you on your next project. Speak to a contractor today to find out what framing and drywall options are available and applicable for your next endeavor.
Custom Millwork in New Jersey provided by Old School Mill Work & Carpentry LLC which is owed and operated by Ulrich Builders founder Kevin Ulrich. Kevin and his team of skilled carpenters have been providing excellent custom woodwork for South Jersey residents for the past 25 years. Get custom designed woodwork with carefully crafted personalized solutions for any home or business.
Our mission is to provide excellence in professional construction and home building services within the Southern New Jersey residential communities and commercial sectors. We have continuously built solid relationships with New Jersey homeowners and business owners alike. Providing all the critical and necessary services needed for any project including new construction, remodeling, roofing and siding, framing and drywall installation, to custom millwork and carpentry, Ulrich Builders LLC offers complete building solutions in New Jersey. Ulrich Builders LLC, a trusted name in South Jersey, is committed to maintaining a 100% level of satisfaction from all South New Jersey area residents and commercial property owners. Let's build a future together.
1 Excellence in Construction Services
2 Building Customer Loyalty  & Relationships
3 25 Years of Professional Operations
Homeowners who have longed for that new kitchen or bathroom have turned to Ulrich Builders relying on our solid reputation as a trusted source for everything from remodels, building a new home, replacing a roof, installing new siding, framing & drywall, to custom carpentry. Our dedicated team of skilled craftsman are available for any project. We strive to maintain that level of a trustworthiness, reliability, & satisfaction for every service we provide. Serving Southern New Jersey homes and businesses alike, we absolutely love our customers.
We Strive for Satisfaction
COMMERCIAL BUILDING & REMODELING
Browse the Ulrich Builders Gallery to see some of our work on home remodeling, home additions, new home construction, roofing and siding replacement, commercial remodeling and construction.
WHY CHOOSE ULrich Builders
LOOKING FOR QUALITY IN A PROFESSIONAL CONSTRUCTION COMPANY FOR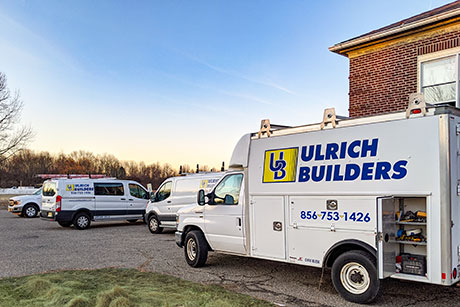 Ulrich Builders LLC brings together professional and trusted craftsmanship covering all aspects of any residential and commercial building project.
Ulrich Builders LLC for new construction & remodeling projects.
Ulrich Roofing for all home and business roof installations and repair as well as providing professional siding installations.
Ulrich Drywall handles all interior wall framing & drywall needs to create a clean and admired look for any room or office.
Old School Millwork LLC brings the excellence of custom craftsmanship in carpentry to every project that requires that special touch.
Marcus Meara
★★★★★
We got a new roof and gutters. End product looks great, would definitely recommend.
Thomas Little
★★★★★
I had 4 company's come out to look at the roof. The gentleman from Ulrich (Mike) was the only one to go on the roof and look. The workers that came were very polite and did such a good job cleaning I could not tell they were there. I am overwhelmed of how nice it looks! Hire this company! You don't have to look anymore.
Jeanette Vicens
★★★★★
Mike and his team are very professional, courteous and performed above and beyond my expectations. I recommend them because they took their time, ensured the job was done well and were fairly priced. They used the best materials for my roof and I can rest assured it will last a long time. Highly recommend using them.